Bachelor and Master Theses
---
We permanently offer proposals for bachelor and master thesis projects in all areas across our research activities (see our research areas page) and related subjects which cover most topics in Virtual Reality and Scientific Visualization. The thesis topics are usually specified in cooperation with one of our research assistants and/or Prof. Kuhlen taking into account the student's individual interests and his/her previous knowledge as well as the current research agenda of the Virtual Reality group (e.g. in terms of ongoing academic or industrial cooperations). So if you are interested in a thesis project in Virtual Reality, please contact us. In order to guarantee a successful completion of the thesis, we usually expect our student to have
taken the "Basic Techniques in Computer Graphics" lecture if you are a bachelor student
taken the "Virtual Reality" lecture if you are a master student
a good working knowledge of C++
or an equivalent qualification.
Below you find a (non-complete) list of currently open theses and the respective supervisors to contact.

Bachelor/Master Thesis: Menus on the desk
When immersed at her desk wearing an HMD, the user needs to have control, e.g., over system parameters. This usually happens via menus. Using menus with your hands in mid-air quickly gets exhausting and additionally misses potential haptic feedback. Therefore, the goal of this thesis is to investigate the potential use of the physical desk's surface for interaction with the virtual menu. That may be less exhausting and simultaneously the menu gets tangible.

Contact:
Daniel Zielasko, M. Sc.
Bachelor Thesis: Large Scale Clustering of Nerve Fibers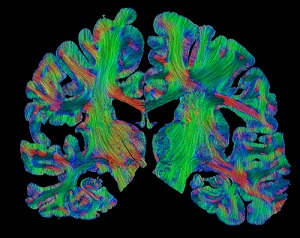 With a rather new imaging technique (polarized light imaging) it is nowadays possible to acquire nerve fibers in the brain at microscale resolution. In order to perceive the huge amount of data and compare the results to other imaging techniques with lower resolutions, it is necessary to provide visualizations which summarize the fiber information. In a previous work particle tracing was used to generate structures out of a vector field (e.g., nerve fiber directions) that are visualized in a next step. This thesis should continue this work by clustering particle traced data in order to reduce visual clutter of redundant information and testing the algorithm on large scale brain data to give a proof of concept. Prerequisites: good C++ programming skills Good to have: Experience with CMake and development in Linux and Windows environments

Contact:
Dipl.-Ing. Claudia Hänel
Bachelor/Master Thesis: Giving perspective: View-Dependent 3D Graph Layout
3D graph representations suffer even more than their 2D counterparts from visual clutter. Thus, different layout approaches exists that replace nodes and redirect edges to improve visibility. However, it is difficult to find a layout that matches every viewing direction. In this thesis an algorithm should be implemented that dynamically reacts on changes in the point of view and simultaneously keep the graph's structure as consistent as possible.

Contact:
Daniel Zielasko, M. Sc.
Bachelor/Master Thesis: Interactive 3D Connectivity Exploration of Layered Structures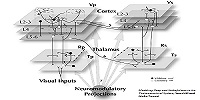 Goal of this this thesis is the presentation of layered brain connectivity data. The 3D visualization should be interactively accessible and integrated within a larger multi-view context.

Contact:
Daniel Zielasko, M. Sc.
Master Thesis: Traveling abstract dataspaces in VR and taking my desk with me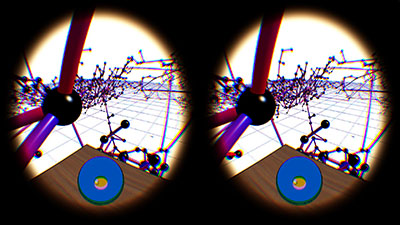 Utilizing immersive virtual environments for professional data analysis while sitting in your office desk becomes a valid setting when taking into account the newest generation of HMDs. In a scenario like this it is beneficial to have an anchor to reality as this can even increase the experience. In this thesis it should be evaluated which impact it has when a virtual substitute of the user's desk is also shown and moving together with the user in the virtual world, how such a substitute could be used and if it has to be modified to be beneficial for the experience.

Contact:
Daniel Zielasko, M. Sc.
Master Thesis: Interactive 3D Edge Bundling

Edge bundling merges edges that follow similar paths through a graph to reduce visual clutter. With the so called 3D Force-Directed Edge Bundling we proposed a spring-force-based algorithm that operates in 3D, is able to process general graphs and is even able to depict weighted graphs. However, physic based algorithms are vulnerable to numerical problems, parameters have to be found and the computational complexity is high. Therefore, in this thesis available voxel-based algorithms should be further developed and be compared our force-directed approach.

Contact:
Daniel Zielasko, M. Sc.