Bachelor and Master Theses
---
We permanently offer proposals for bachelor and master thesis projects in all areas across our research activities (see our research areas page) and related subjects which cover most topics in Virtual Reality and Scientific Visualization. The thesis topics are usually specified in cooperation with one of our research assistants and/or Prof. Kuhlen taking into account the student's individual interests and his/her previous knowledge as well as the current research agenda of the Virtual Reality group (e.g. in terms of ongoing academic or industrial cooperations). So if you are interested in a thesis project in Virtual Reality, please contact us. In order to guarantee a successful completion of the thesis, we usually expect our student to have
taken the "Basic Techniques in Computer Graphics" lecture if you are a bachelor student
taken the "Virtual Reality" lecture if you are a master student
a good working knowledge of C++
or an equivalent qualification.
Below you find a (non-complete) list of currently open theses and the respective supervisors to contact.
---
Master Thesis: Automatic Gazing Behavior for Virtual Agents Based on the Visible Scene Content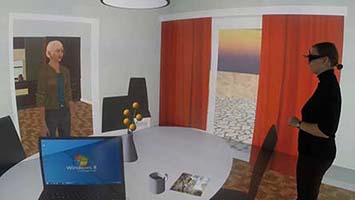 Virtual Agents are often used to enliven virtual scenes and to assist or teach a human user. Thereby especially their gazing behavior is of importance since we, as humans, are very trained on inferring intention (and feelings) from another human's gazing behavior. This thesis is two-fold: First, state-of-the-art concepts for natural gazing behavior during conversations and, e.g., while thinking or ideling, should be enhanced by an environment-aware gazing. Therefore, e.g., recent research on gaze prediction for humans immersed in a virtual environment or shall be applied. Furthermore, reactions to dynamic changes within the virtual environment itself should be taken into account , e.g., reactions on other agents or the user's movement. The second part of the thesis is then to develop and conduct a small user study to evaluate the implemented concepts.
Professional Prerequisites
Programming experience with C++ and Unreal Engine 4
Basic Knowledge of Computer Graphics and VR
Contact:
Jonathan Ehret, M.Sc.
Bachelor/Master Thesis: Active Bezel Correction to Reduce the Transparency Illusion of Visible Bezels Behind Opaque Virtual Objects
In many room-mounted VR systems, bezels exist between separate screens or at the corners and edges of CAVE screens. If an opaque object is virtually displayed in front of the screen and a bezel is visible behind this object then conflicting depth cues lead to the virtual object appearing transparent especially for novice users. A possible solution is to virtually reproduce the bezel such that for a viewer the bezel (i.e. two versions of it) are virtually moved in front of the object or to the surface of it. The scope of this thesis would be to further improve an existing prototype of this especially by adding the possibility to move the bezel onto the surface of no-flat objects. Furthermore, a user study should be designed and conducted to prove that this technique lowers the problem of objects appearing translucent.
Professional Prerequisites
Programming experience with C++ and Unreal Engine 4
Basic Knowledge of Computer Graphics
Contact:
Jonathan Ehret, M.Sc.
Bachelor Thesis: Fast Body Avatar Calibration Based on Limited Sensor Input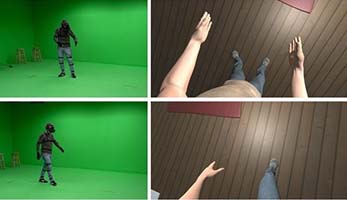 While experiencing an immersive virtual environment (IVE) under a head-mounted display (HMD), users are unable to see the real world and thus do not perceive their own body. To this end, body avatars are embedded, mimicking the user's real movements and postures. In this bachelor thesis, a fast and easy calibration procedure for a full-body avatar will be developed. It will be only based on the two input devices of the HTC Vive, two additional trackers attached to the user's legs, and the HTC Vive itself. While different avatar appearances, e.g., human-like or robot-like, should be provided, the animation accuracy as well as the resulting body-ownership illusion will be in focus.

Figure: User observing his body avatar in an IVE (adapted from Kilias et al., 2019).
Professional Prerequisites
Programming experience with C++ and Unreal Engine 4
Basic Knowledge of Computer Graphics
Contact:
Andrea Bönsch, M. Sc.
Jonathan Ehret, M.Sc.
Master Thesis: The multi-device data- and task-parallelism library
There are various solutions for shared and distributed parallelism on CPUs and GPUs today: OpenMP and Intel Threading Building Blocks (TBB) for shared parallelism on the CPU, OpenCL and NVIDIA CUDA for shared parallelism on the GPU, MPI for distributed parallelism on both the CPU and the GPU. The majority of algorithms in scientific data analysis and visualization may be divided into two groups: data-parallel and task-parallel. Data-parallel approaches divide the domain into smaller chunks which are distributed to the processes, whereas task-parallel approaches divide the problem into smaller chunks and distribute them instead. The core idea of this engineering-oriented work is to develop a library enabling development of data-parallel and task-parallel visualization algorithms without explicit knowledge of the device the algorithm will run on.

Contact:
Ali Can Demiralp, M. Sc.
Master Thesis: Numerical relativity library
Numerical relativity is one of the branches of general relativity that uses numerical methods to analyze problems. The primary goal of numerical relativity is to study spacetimes whose exact form is not known. Within this context the geodesic equation generalizes the notion of a straight line to curved spacetime. The core idea of this work is to develop a library for solving the geodesic equation, which in turn enables 4-dimensional spacetime ray tracing. The implementation should at least provide the Schwarzschild and Kerr solutions to the Einstein Field Equations, providing visualizations of non-rotating and rotating uncharged black holes.

Contact:
Ali Can Demiralp, M. Sc.
Master Thesis: Mean curvature flow for truncated spherical harmonics expansions
Curvature flows produce successively smoother approximations of a given piece of geometry, by reducing a fairing energy. Within this context, mean curvature flow is a curvature flow defined for hypersurfaces in a Riemannian manifold (e.g. smooth 3D surfaces in Euclidean space), which emphasizes regions of higher frequency and converges to a sphere. Truncated spherical harmonics expansions are commonly used to represent scientific data as well as arbitrary geometric shapes. The core idea of this work is to establish the mathematical concept of mean curvature flow within the spherical harmonics basis, which is empirically done through interpolation of the harmonic coefficients to the coefficient 0,0.

Contact:
Ali Can Demiralp, M. Sc.
Master Thesis: Orientation distribution function topology
Topological data analysis methods have been applied extensively to scalar and vector fields for revealing features such as critical and saddle points. There is recent effort on generalizing these approaches to tensor fields, although limited to 2D. Orientation distribution functions, which are the spherical analogue to a tensor, are often represented using truncated spherical harmonics expansions and are commonly used in visualization of medical and chemistry datasets. The core idea of this work is to establish the mathematical framework for extraction of topological skeletons from an orientation distribution function field.

Contact:
Ali Can Demiralp, M. Sc.
Master Thesis: Block connectivity matrices
Connectivity matrices are square matrices for describing structural and functional connections between distinct brain regions. Traditionally, connectivity matrices are computed for segmented brain data, describing the connectivity e.g. among Brodmann areas in order to provide context to the neuroscientist. The core idea in this work is to take an alternative approach, dividing the data into a regular grid and computing the connectivity between each block, in a hierarchical manner. The presentation of such data as a matrix is non-trivial, since the blocks are in 3D and the matrix is bound to 2D, hence it is necessary to (a) reorder the data using space filling curves so that the spatial relationship between the blocks are preserved (b) seek alternative visualization techniques to replace the matrix (e.g. volume rendering).

Contact:
Ali Can Demiralp, M. Sc.