Bachelor and Master Theses
---
We permanently offer proposals for bachelor and master thesis projects in all areas across our research activities (see our research areas page) and related subjects which cover most topics in Virtual Reality and Scientific Visualization. The thesis topics are usually specified in cooperation with one of our research assistants and/or Prof. Kuhlen taking into account the student's individual interests and his/her previous knowledge as well as the current research agenda of the Virtual Reality group (e.g. in terms of ongoing academic or industrial cooperations). So if you are interested in a thesis project in Virtual Reality, please contact us. In order to guarantee a successful completion of the thesis, we usually expect our student to have
taken the "Basic Techniques in Computer Graphics" lecture if you are a bachelor student
taken the "Virtual Reality" lecture if you are a master student
a good working knowledge of C++
or an equivalent qualification.
Below you find a (non-complete) list of currently open theses and the respective supervisors to contact.
---
Bachelor Thesis: Group Navigation with Virtual Agents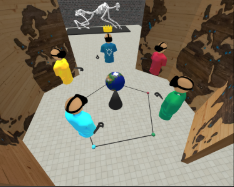 Architectural environments such as cities or museums are communal places. Thus, populating these scenes with computer-controlled virtual agents as virtual pedestrians adds plausibility and realism to the overall scenario. To meet the user's nature of being a social being, these pedestrians shall be user-aware. One crucial aspect here is group navigation, divided into the following four stages: forming a navigational group (forming) with the user, distribute navigational responsibilities (norming), navigate together (performing), and finally, splitting up again (adjourning).

(Image on the right taken from Weissker and B. Fröhlich, TCVG, 2021)

The goal of this thesis is to design the three stages of forming, performing, and adjourning for the use case of a guided tour through a virtual city. A virtual guide takes over the global wayfinding responsibilities (norming) and guides the group on a predefined path through the scene while walking in front of the group. The design and implementation focus is thereby on the behavior of the virtual participants of the tour. The research objective is to design the navigational group in a way, that the user feels comfortable, perceives a high level of social presence, and experiences being part of the social group. A small HMD-based user study should be performed in the end evaluating the algorithmic design of the group navigation.


Requirements
Prior experiences with UE4
Programming experience with C++
Independent and structured style of working
Contact:
Andrea Bönsch, M. Sc.
Bachelor Thesis: Walking and Talking Side-by-Side with a Virtual Agent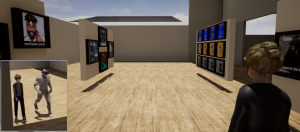 In reality, we are commonly surrounded by and walk side-by-side with other people. Especially when walking in a group of two, we try to maintain the side-by-side alignment to ease, e.g., conversing, while we constantly coordinate our movements based on the other person. Walking side-by-side with a virtual agent in an immersive virtual environment (see Fig. for 1st person and 3rd person perspective) is, however, non-trivial as we face different challenges:
Common head-mounted displays (HMDs) only provide a small field of view, thus limiting the peripheral view of the user. To this end, seeing an agent in a side-by-side alignment is either hampered or not possible at all without constantly turning one's head. For room-mounted displays such as CAVEs with at least three projection screens, the alignment itself is possible.
Which interaction partner aligns with the other? Influencing aspects here are, e.g., is the goal of the joint locomotion known by both walkers, or just by one?
For the fine-grained alignment, the agent's animation or the user's navigation strategy needs to allow many nuances, trajectory- and speed-wise.
To this end, this bachelor thesis will design and compare different strategies of realizing walking with an agent while taking, with a focus on HMD scenarios.
Requirements
Prior experiences with UE4
Programming experience with C++
Independent and structured style of working
Contact:
Andrea Bönsch, M. Sc.
Master Thesis: Teacher Training System to Experience how own Behavior Influences Student Behavior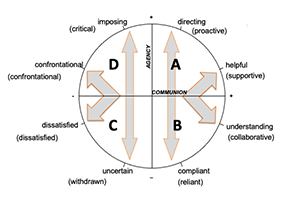 In this master thesis, you will design and implement an HMD-based training system, allowing student teachers to train classroom management. Specifically, the system shall provide student teachers a simulation, which offers them to experience how their own behaviour influences and triggers student behaviour. This simulation should be based on the principle of interpersonal complementarity (cp. Figure taken from Mainhard, 2016), which describes basic action-reaction patterns in human relations.

As a basis, the training system will comprise a virtual classroom, a set of virtual agents fulfilling the roles of students, and various animations for different student behaviour. The system will continuously measure a user's behaviour such as tone of voice, gestures, or proxemics, interpret them in real-time based on the Teacher Interpersonal Circle (cf. figure) and trigger appropriate responses of the virtual students. Instead of simulating a complete lesson, you will focus on a small set of specific moments, e.g., starting a lesson or dealing with an unmotivated student.

For this topic, we team up with experts of Zuyd University of Applied Sciences, Utrecht University, and Wageningen University & Research, who are actively involved in teacher education and can provide video footage of those situations in real teaching contexts. Furthermore, as the underlying framework, you will work with the Unreal-based software stack of the project Breaking Bad Behavior of University Würzburg.


Requirements
Prior experiences with UE4
Programming experience with C++
Interest in modeling, animation, and VR
Independent and structured style of working
Good English skills
Contact:
Jonathan Ehret, M.Sc.
Andrea Bönsch, M. Sc.
Bachelor/Master Thesis: Augmented Reality for Process Documentation in Textile Engineering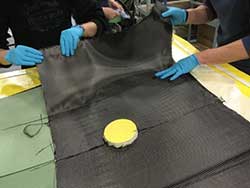 The production of fiber-reinforced plastics (FRP) usually requires a lot of expert knowledge possessed by individual workers. To further improve and automate this process, this knowledge needs to be accessible in a digital form. In a collaboration between the institutes for textile engineering (ITA) and visual computing (VCI) of RWTH Aachen University, we want to address this problem using an Augmented Reality (AR) application. This application should allow users to record, label and classify errors during various production steps and trace these errors through the production chain. The goal of this thesis is to evaluate AR user interfaces and visualizations for error labeling and classification in the context of production of FRPs. The thesis should include the implementation of a prototypical application running on AR hardware.

Contact:
Martin Bellgardt, M. Sc.
Master Thesis: The multi-device data- and task-parallelism library
There are various solutions for shared and distributed parallelism on CPUs and GPUs today: OpenMP and Intel Threading Building Blocks (TBB) for shared parallelism on the CPU, OpenCL and NVIDIA CUDA for shared parallelism on the GPU, MPI for distributed parallelism on both the CPU and the GPU. The majority of algorithms in scientific data analysis and visualization may be divided into two groups: data-parallel and task-parallel. Data-parallel approaches divide the domain into smaller chunks which are distributed to the processes, whereas task-parallel approaches divide the problem into smaller chunks and distribute them instead. The core idea of this engineering-oriented work is to develop a library enabling development of data-parallel and task-parallel visualization algorithms without explicit knowledge of the device the algorithm will run on.

Contact:
Ali Can Demiralp, M. Sc.