Jobs
---
We permanently look for student assistants (HiWi) to work on exciting projects in the area of Virtual Reality and Immersive Visualization. If you are interested and have good programming experience (C++, CMake), please look at the research topics of our staff and contact the person you'd like to work with. If you are interested in more than one topic, contact our office in order to get an appointment with several colleagues or to get information on further available jobs.
Furthermore, we are regularly seeking candidates with a strong interest in Virtual Reality and Immersive Visualization as higly qualified PhD. students or software developers.

Student Assistant: 3DUI Designer in Unreal (m/w/d)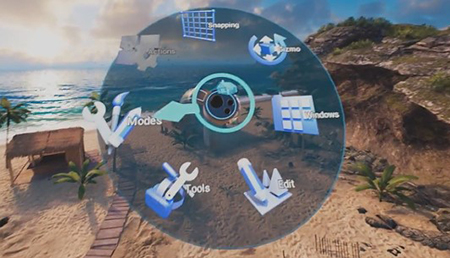 Background
An easy and intuitive interaction in immersive virtual environments (IVEs) is crucial for an unhindered VR experience. Thus, various applications provide basic context menus, as 3DUIs, in which individual commands or actions are assigned to each menu item. One example of these menus are the extended pie menus, shown
here
. Some items might simply trigger a certain action in the IVE functioning as a plain button, while other items might be own menus of different complexity like sliders or color map editors. The more complex a scene and the provided interaction becomes, the more menu items are required. Thus, they are often designed in a hierarchical fashion. This increases the complexity of the overall menu handling. To this end, it is crucial to carefully design the context menu's layout sticking, e.g., to the golden rule of user interface design, while also providing suitable entry selection methods.
Task Description
The applications in our research group focuses on the Unreal Engine 4 and we require a suitable, general 3DUI context menu. The following steps need thus to be done:
Requirement analysis for context menus in our research group
Evaluation of the given context menus in Unreal Engine 4
Design and development of a customized context menu for all our research, service and teaching applications in a close collaboration with our team
Prerequisites
Experience in designing UIs
Programming experience with C++ and Unreal Engine 4
Understanding importance of software design
Ability to self-reliant prioritize and manage assigned tasks within a given timeframe
Open and transparent communication skills to ensure that we are all on the same page
Details
As soon as possible
Weekly hours: between 8 and 12 hours within the first three months (ca be upgraded, if desired)
Longer lasting collaboration would be desirable
Photo: taken from
http://www.cgchannel.com/
Contact:
Andrea Bönsch, M. Sc.
Simon Oehrl, M. Sc.
Student Assistant: Scene Creation in Virtual Reality
Task Description
We are looking for a student to aid in a collaborative project with a well-known automotive company. The task would be to develop interaction techniques for loading and manipulating objects in virtual environments. Furthermore, you would have the possibility to take part in new research and this could potentially also lead to a Bachelor or Master thesis in our group.
Prerequisites
Interest in topics related to Virtual Reality
Experience in C++, C# and OpenGL
Experience in Unity3D
Basic Knowledge of Computer Graphics
Ability to work in teams and self-organize
Details
As soon as possible
Weekly hours: between 8 and 12 within the first three months (might upgrade to up to 19 later, if desired)
Longer lasting collaboration would be desirable
Contact:
Sevinc Eroglu, M. Sc.